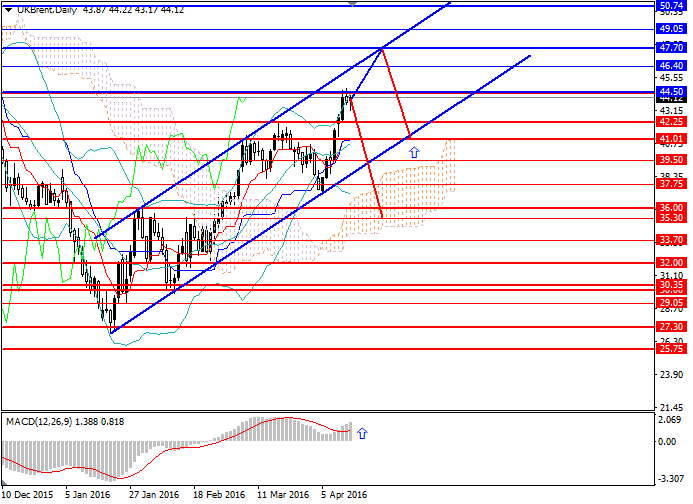 Scenario

Timeframe
Weekly
Recommendation
SELL LIMIT
Entry Point
47.70, 49.05, 50.75
Take Profit
44.50, 41.00
Stop Loss
51.10
Key Levels
30.00, 32.00, 35.30, 36.00, 39.50, 41.00, 42.25, 44.50, 46.40, 47.70, 49.05, 50.75, 52.00
Current trend
Since the beginning of the month, the price of Brent crude oil continues growing.
The price was supported by expectations of the meeting of main oil producers in Doha that is due on 17 April, and where they could reach an agreement on a freeze in oil output levels. In addition, the price is supported by continuously shrinking shale oil production in the US. According to the latest report by the US Department of Energy, the production is falling by 15 thousand barrels per day. The main reason remains unprofitability to produce at current prices. Oil prices were also supported by weakening in the US Dollar.
This week, extra attention needs to be paid to outcomes of the meeting in Doha that could determine further dynamics in the price.
Support and resistance
The price continues testing the key resistance level at 44.50. In the medium-term, the growth could continue, however not above the level of 50.00, and the fall will resume thereafter.
Support levels: 42.25, 41.00, 39.50, 37.75, 36.00, 35.30, 33.70, 32.00, 30.35, 30.00.
Resistance levels: 44.50, 46.40, 47.70, 49.05, 50.75, 52.00.
Trading tips
Pending sell order can be placed at the levels of 47.70, 49.05, 50.75 with targets at 44.50, 41.00 and stop-loss at 51.10.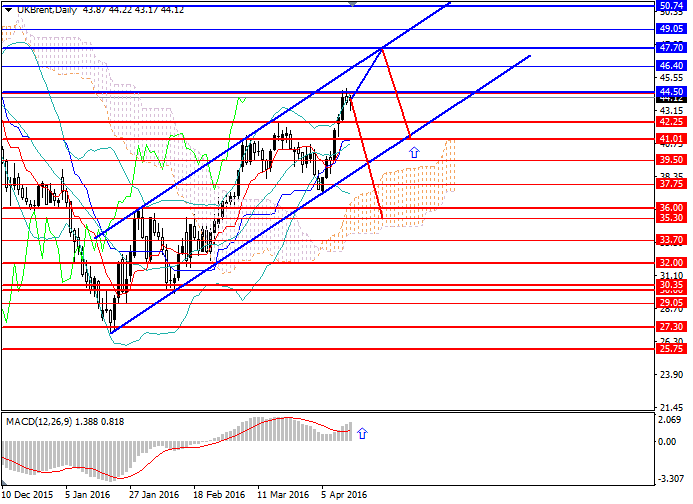 M Samer Al Reifae
Official HiWayFX Representative in Romania
samer@hiwayfx.com
+40 734 277 757
- YOU ARE NEVER LEFT ALONE -
YOU SHOULD NOT TAKE ANY MATERIAL posted on this BLOG AS RECOMMENDATIONS
TO BUY OR SELL GOLD OR ANY OTHER INVESTMENT VEHICLE LISTED.
Do your own due diligence.
No one knows tomorrow's price or circumstance.
I intend to portray my thoughts and ideas on the subject which may s be used as a tool for the reader.
I do not accept responsibility for being incorrect in my speculations on market trend.