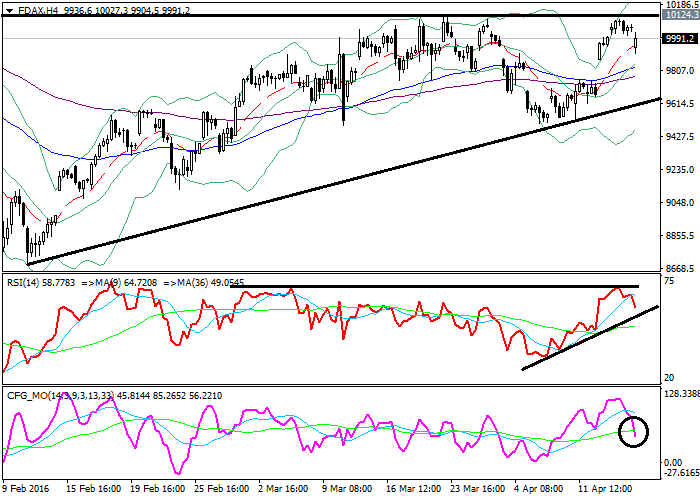 Scenario

Timeframe
Intraday
Recommendation
BUY STOP
Entry Point
10150.0
Take Profit
10455.2
Stop Loss
10010.1
Key Levels
9494.2, 9754.2, 9904.5, 10124.3, 10485.2, 10872.2
Alternative Scenario

Recommendation
SELL STOP
Entry Point
9895.0
Take Profit
9765.2
Stop Loss
9925.9
Key Levels
9494.2, 9754.2, 9904.5, 10124.3, 10485.2, 10872.2
FDAX, H4
On the 4-hour chart, the index is approaching the apex of a correctional triangle. The instrument is trading in the upper Bollinger band while bands are directed up. The price remains above its moving averages that turned up. The RSI has failed its strong resistance and falling. The Composite has broken down its longer MA having developed a more significant downward movement.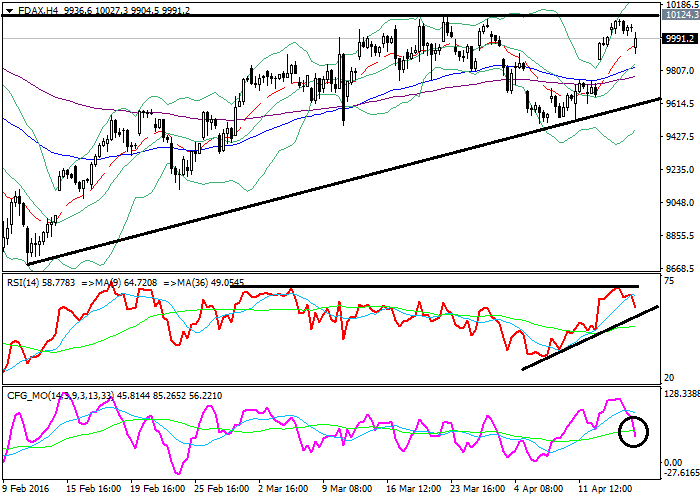 Key Levels
Support levels: 9904.5 (local lows), 9754.2 (EMA130), 9494.2 (beginning of April lows).
Resistance levels: 10124.3 (upper triangle side), 10485.2 (beginning of January gap), 10872.2 (December 2015 highs).
Trading Tips
Long positions can be opened from the level of 10150.0 with the target at 10455.2 and stop-loss at 10010.1. Validity – 2-3 days.
Short positions can be opened from the level of 9895.0 with the target at 9765.2 and stop-loss at 9925.9. Validity – 2-3 days.
M Samer Al Reifae
Official HiWayFX Representative in Romania
samer@hiwayfx.com
+40 734 277 757
- YOU ARE NEVER LEFT ALONE -
YOU SHOULD NOT TAKE ANY MATERIAL posted on this BLOG AS RECOMMENDATIONS
TO BUY OR SELL GOLD OR ANY OTHER INVESTMENT VEHICLE LISTED.
Do your own due diligence.
No one knows tomorrow's price or circumstance.
I intend to portray my thoughts and ideas on the subject which may s be used as a tool for the reader.
I do not accept responsibility for being incorrect in my speculations on market trend.