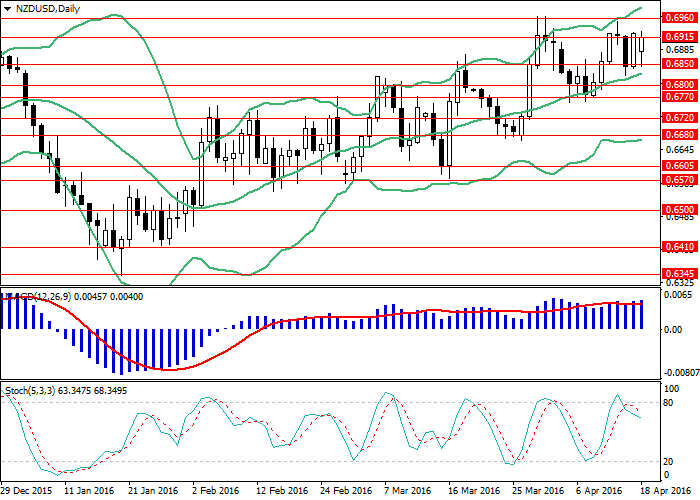 Scenario

Timeframe
Intraday
Recommendation
BUY STOP
Entry Point
0.6925
Take Profit
0.6960, 0.7000
Stop Loss
0.6900
Key Levels
0.6345, 0.6500, 0.6605, 0.6680, 0.6770, 0.6800, 0.6850, 0.6915, 0.6850, 0.6960
Alternative Scenario

Recommendation
SELL STOP
Entry Point
0.6850
Take Profit
0.6800
Stop Loss
0.6880
Key Levels
0.6345, 0.6500, 0.6605, 0.6680, 0.6770, 0.6800, 0.6850, 0.6915, 0.6850, 0.6960
Current Trend
The pair continues growing amid mixed data that keeps coming out in the US. Statistics that were published on Friday showed Industrial Production in March declining by 0.6%, which was worse than expectations. In addition, the pair was supported by today's strong data from New Zealand. The first quarter Consumer Price Index grew by 0.2% thus exceeding forecasts.
Support and Resistance
Today the pair is expected to stay in the range of 0.6850-0.6960.
Technical indicators do not give a clear trading signal. On the daily chart, the pair is trading between the middle and upper MA's of Bollinger Bands. MACD histogram is in the positive zone and its volumes remain unchanged. Stochastic lines are directed down.
Support levels: 0.6850, 0.6800, 0.6770, 0.6720, 0.6680, 0.6605, 0.6570, 0.6500, 0.6410, 0.6345.
Resistance levels: 0.6915, 0.6850, 0.6960.
Trading Tips
Long positions can be opened from the level of 0.6925 with targets at 0.6960, 0.7000 and stop-loss at 0.6900. Validity – 2-3 days.
Short positions can be opened from the level of 0.6850 with the target at 0.6800 and stop-loss at 0.6880. Validity – 2-3 days.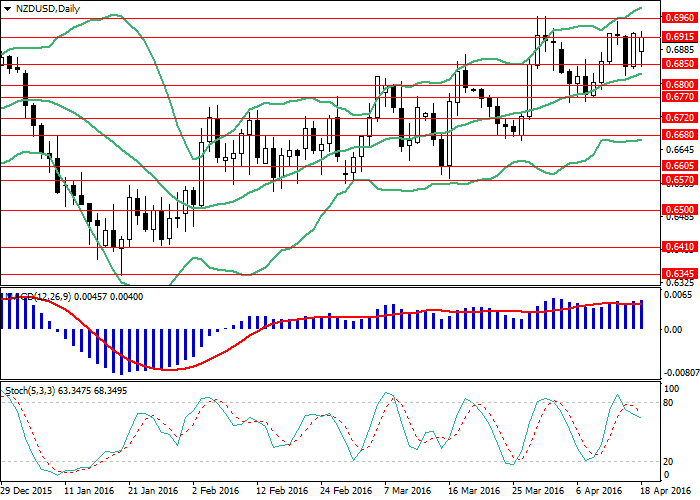 M Samer Al Reifae
Official HiWayFX Representative in Romania
samer@hiwayfx.com
+40 734 277 757
- YOU ARE NEVER LEFT ALONE -
YOU SHOULD NOT TAKE ANY MATERIAL posted on this BLOG AS RECOMMENDATIONS
TO BUY OR SELL GOLD OR ANY OTHER INVESTMENT VEHICLE LISTED.
Do your own due diligence.
No one knows tomorrow's price or circumstance.
I intend to portray my thoughts and ideas on the subject which may s be used as a tool for the reader.
I do not accept responsibility for being incorrect in my speculations on market trend.